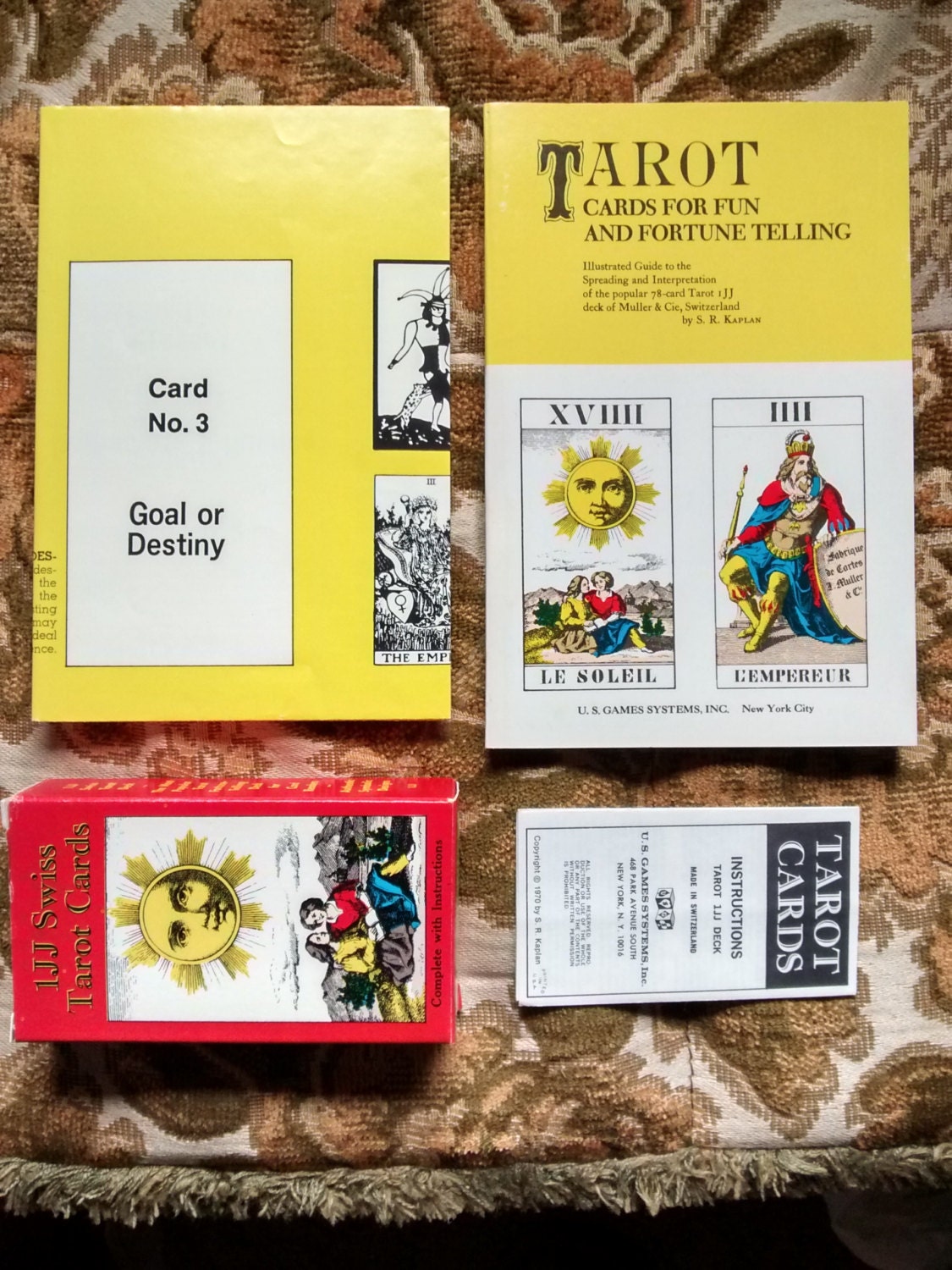 When I decided to do as Yves suggested, share a tarot card story, I went searching on-line for the image of a particular tarot kit I once possessed. The deluxe edition of Tarot Fortune-Telling Game included "authentic 78-card Tarot 1 JJ deck in 7 colors, made in Switzerland . . ., a [p]rofusely illustrated 96 page instruction book, Tarot Cards for Fun and Fortune-Telling, . . . and an illustrated guide sheet for an ancient 10-card spread."
My 45 year ago tarot deck. At that time, I had almost no local friends, a mother uncomfortable with tarot, and a jokey father. So, I risked the cosmic consequences, and told my cats' fortunes quite a bit. As well as my own.
My away "new age" friend was in tune with such things. She studied with an astrologer and could create natal star charts, wonderfully intricate wheel graphs with multiple calculations, and your story told within. She suggested holding the deck and dealing out readings so the cards would become familiar with me. In a strange way, we did bond. Always a little a-tuned with the unseen, and picking up on vibes, my tarot reading improved.
Some, was as poker players and séance holders will say, watching people's physical reactions. The imperceptible nod of a head, a shiver, a furrow across the brows, just like the cards, told me things. Trouble was, I didn't like the feeling – the knowing without "reading" the cards what the spread would imply.
And, that's why I put my tarot cards away. Doing co-workers cards was alright. I knew enough about them to read their life present, guess on their life past, and suppose on their life future. But, then a co-worker asked me to do her friend's cards. I was hesitant, but complied. I interpreted the cards perfectly for her. I mean more than reading body language, more than what she said in response. The last reading I did. I gave my cards away.
As a foot note, later I had my cards read several times. The last woman was good, on past & present, but her predictions seemed and remained off the mark. That is until several years later when I met my husband who was exactly as she described.
So, I do believe in the power of the tarot. The power of the invisible. The power of the spark that is the spirit, that is the soul.
I got such a strong sense of déjà vu at the end of that sense, I had to do a word check of posts and drafts; somewhere in the non-polished or non-published world sits these words. Tarot still has that effect on me I guess.